Testimonials, Quotes, and Cancer Stories
In 2006 my life changed dramatically with these three words: You have cancer. I was in the happiest moment of my life.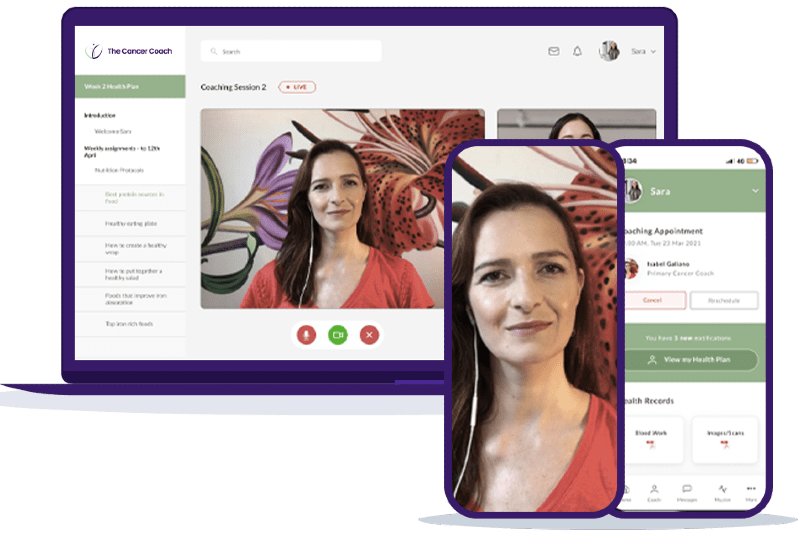 Pocket Companion Cancer App. Take Your Health Plan and Coach Anywhere…
The app gives you access to our team including medical doctors, nutritional therapists, dietitians, psychologists, and health coaches with a range of expertise in nutrition, gut health, stress management and emotional wellbeing, sleep, exercise and movement, and detoxification.
Frequently Asked Questions About Cancer
What Should I Eat When I Have Cancer?
Eating a nutrient dense diet adapted to every phase of your cancer journey makes a huge difference in your recovery and wellbeing, but there is so much conflicting information out there that most feel confused and overwhelmed.
What Should I Eat During Cancer Treatment?
Many cancer patients worry about diet and whether they are getting the correct nutrients to help them fight cancer. We help cancer patients and those affected by cancer to develop the right nutritional plan for each individual circumstance.
Should I Take Any Vitamins or Supplements?
Self-supplementing can be a problem if you are going through treatment, you always need to consider safety and possible interactions. The quality of a supplement and adequate dosage play a crucial role.
Ready to Make a Change?
Book a Free Consultation with a specialist Cancer Coach.