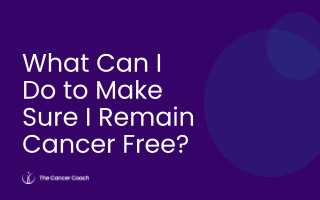 Very few cancers are caused by genetics and by making some simple lifestyle changes we can dramatically reduce the risk of a reoccurrence.
Testimonials, Quotes, and Cancer Stories
"My coach provided constant and caring support to myself and family through a very stressful and still surreal time in our lives. Now post-surgery and treatments, I am feeling well and confident that I can maintain good health for many years ahead with the help of the lifestyle advice and tools provided."
"Ever since I was diagnosed with cancer, I felt really isolated. Sharing my story with my cancer coach, who went through a similar journey, made a real difference; for the first time I felt that somebody truly understood what I was going through. The very practical advice in terms of nutrition and lifestyle gave back a sense of confidence and hope."
"I am so happy that I came across The Cancer Coach, it made me a better caregiver for my mother and helped me stay emotionally and physically strong during the process."
Ready to Make a Change?
Complete our brief survey so that we can connect you with the proper service and provide more information about your next steps.